FREE UK DELIVERY
on UK mainland orders today
LIFETIME GUARANTEE 
on all of our products
MADE TO MEASURE 
direct to your door
From traditional to contemporary, casual to formal… express your individual style with the timeless beauty of Cheshire window Shutters. Now you can add dramatic light control and a personal touch of elegance to any room – at prices designed for any budget!
Cheshire Window Shutters combine the traditional warmth and beauty of natural wood with the practical advantages of high–tech materials and intelligent design.
Cheshire Window Shutters are quality engineered using an advanced, solid-core composite material that outperforms other shutters. A specially hardened encapsulation ensures a smooth, long-lasting satin finish that stands up to moisture, heat, and ultraviolet rays without fading, denting, warping or chipping.
Energy Savvy Cheshire Window Shutters insulate better than wood, yet they're less expensive and easier to care for. The high-tech features, impeccable beauty and quality construction can significantly enhance the value of your home, at an extremely affordable price. You could pay more for a window treatment, but you won't find a better value than with us. Timeless beauty, then and now.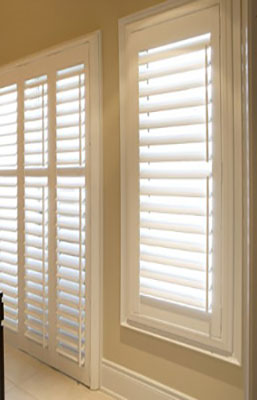 Window shutters have been used since ancient times for light control and ventilation in warm, sunny climates. Today, thanks to technological advances in window materials and production methods, non-wood shutters have evolved beyond the Sunbelt and into the mainstream of modern window fashion, from exterior protection to an interior design element that has captured the imagination of designers around the world.
Cheshire Window Shutters Vinyl Collection
High-fashion light control with a distinctive, personalised style.
Versatile range of louvres and frame styles.
New closed-cell composite technology ensures superior strength. Will not warp, dent or chip.
Ruggedised cap stock enhances surface integrity; resists moisture, heat, UV rays; stays "Always Dry" even in kitchens & bathrooms.
Easy, low-cost maintenance – perfect for today's busy lifestyles.
Energy Savvy® – insulating properties helping to lower cooling costs.
Smart design & production mean lower prices for any homeowner.
TEN YEAR WARRANTY